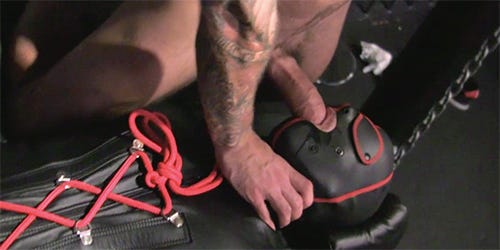 Essential Leather Sleepsack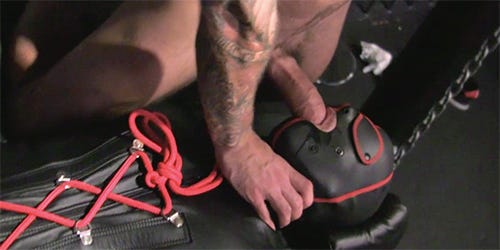 Essentials Sleepsack
Our same Sleep Sack as to quality, but with fewer whistles and bells, at a lower price.

Mr. S & Fetters were the Originators of the Original All Leather Sleep Sack way back around 1988. Since then a lot of other companies have knocked off our design, but never making one with same quality and fantastic fit and feeling of a Mr. S one.

Theirs have been cheaper in price And quality. The Mr. S/Fetters Sleepsack is the Rolls Royce of all Sleepsacks and is the ultimate Bondage Experience. That goes for a relaxing short term (a few hours) or for longer overnight scenes.

Our New All Leather Sleep Sack covers your entire body from the Neck to the Feet. When you are Zipped into the Leather cocoon and then the laces are pulled over the zipper, you are squeezed tightly and evenly the entire length of your body. The feeling is one of total helplessness. With your arms and hands secured inside the Inner sleeves at your sides, you cant reach or touch anything.

Our Sleepsacks are equipped with 18 small metal D rings down the front which allows you to lace the sack very tightly. It can be a comfortable overnight experience or it can be pulled so tightly that it becomes an intense bone crushing body numbing trip. I have been in one of these pulled so tightly that my entire body went numb, except for my head. This was an almost "out of body" experience and when everything was finally loosened, the whole body turned into pins and needles as the blood came back. The longest I've ever been laced into a Sleepsack was 85 hours non-stop. An amazing and stunning "back to the womb" experience.

All our sacks have been designed with a single long zipper, running the entire length of the sleep sack from neck to ankles. The zipper has three pulls, so the zipper can be opened anywhere along its length! This will give you complete access to the victims Cock and Balls even while he is still tightly encased. The foot of the sleep sacks have also been designed to be a simpler, more natural, and comfortable extension of the sleep sack.

This 3-pull zipper design makes putting Yourself into a sleep sack even easier.making this Great for Solo Bondage. Yes, you can put Yourself into one of our Sleep sacks and with a little practice have a hard time getting out of it. If someone else puts you into it there is No way of getting out.

You can put yourself into a sleep sack and zip up the entire Front zip, but your arms won't then be inside the inner sleeves. There is also a 18" Butt Zipper in the back.

ALL these features are all Still on the New Essential Mr. S Leather Sleep sack. What we have left off to lower the price of this new item are the larger D rings on the sides that the belt straps would be threaded through. There were also an wide heavy leather panels that that were sewn around the Sleep Sack at intervals up the entire length and two leather panels that went down each side from the neck to the toes.

These panels gave support for the larger D rings that were on the sides as well an adding enormous strength to the overall Sleep Sack itself. They also added much of the cost to our Deluxe model both in the leather itself and the labor. It's why the Mr. S Sleep Sack is so highly prized as the Ultimate Bondage piece.

The New Essential Sleep Sack: comes with all the items listed above and is sold in sizes Small, Medium, Large, and X-Large. No custom sizing is available on this model. Also the Essential model does Not offer either Shoulder or Foot Suspension possibilities, lining or Tit Flaps. All of these features required the Heavy leather panels to be in place.

So what you are getting is a really nice ALL Leather Sleep Sack for use in a Horizontal position. Inner Sleeves, Butt Zipper, and Cinch Rings down both sides of the Full Length Front Zipper for lacing the sack very tightly. All for about $800 less than our Deluxe model. If you can afford the Mr. S Deluxe All Leather Sleep Sack (SS003), we highly recommend you get one, as it will last a lifetime. But if price is an issue, this Essential Mr. S Sleep Sack (SS040) is a good choice. It doesn't have all the features of the Deluxe model, but it still has the same high quality that you expect from any product made by Mr. S Leather. So now you can own a real Mr. S Leather Sleep Sack for a price you might pay for one of the poorly made knock off's.

Not Customized or Made to Measure.

These Essential Sleep Sacks are made in 4 sizes only...
Small
Medium
Large
X-Large

If you desire a made to measure or some other Custom features on your Sleep Sack, you will need to order our Deluxe Sleep Sack SS003

Questions regarding sizing? Give us a call or write us an email!

The sleepsack is adjustable due to the d-rings and cinching. Here is a rough guide to finding out which size will fit you best (these measurements are for the maximum dimension for each given area):
Sleepsack Size Chart
| | | | | | | | | | |
| --- | --- | --- | --- | --- | --- | --- | --- | --- | --- |
| | Chest / Arms | Waist / Arms | Hips / Wrist | Legs / Fingers | Knees | Calves | Ankles | Height | Foot |
| S | 48" / 122cm | 48" / 122cm | 44" / 112cm | 30" / 76cm | 26" / 66cm | 25" / 64cm | 21" / 53cm | 60" / 152cm | 10" / 25cm |
| M | 50" / 127cm | 50" / 127cm | 45" / 114cm | 35" / 89cm | 29" / 74cm | 26" / 66cm | 21" / 53cm | 60" / 152cm | 10.5" / 27cm |
| L | 52" / 132cm | 52" / 132cm | 46" / 117cm | 40" / 102cm | 32" / 81cm | 27" / 69cm | 21" / 53cm | 62" / 157cm | 11" / 28cm |
| XL | 54" / 137cm | 54" / 137cm | 47" / 119cm | 44" / 112cm | 35" / 89cm | 29" / 74cm | 22" / 56cm | 63" / 160cm | 11" / 28cm |
Body band measurement locations depicted on the measurement form. Please make sure you fill out this form when you order.