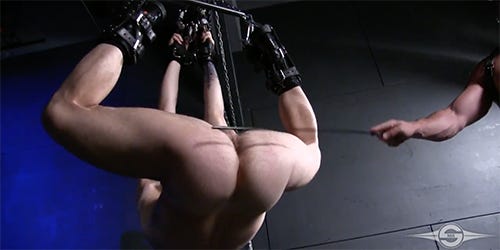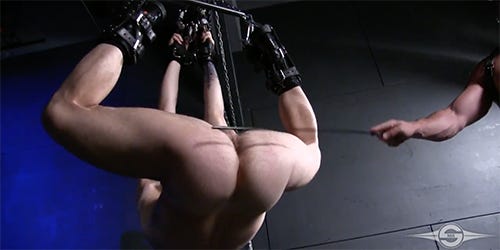 Suspension Hand Slings

These Suspension Hand Slings are a must for your toy bag. They make quick work of restraining your boy in the position that suits you. Clip him to a suspension bar and raise his hands high so you have full access to his body. You can also use them to spread his arms apart for a good, heavy duty flogging session. And if your boy is as athletic as some of ours you can even truss him up like a piece of meat and let him hang.

The custom designed machined aluminum handgrips are combined with heavy duty latigo leather to create a comfortable and effective restraint. We've incorporated a Velcro closure that helps you "set" the restraint making it simple to get on. To lock him in simply cinch down the adjustable latigo strap to a comfortable and secure position.

At the top of the restraint and around either side of the handgrip we've used a new piece of hardware that allows you to connect and disconnect by turning the cylinder. These "panic" snaps allow you to get your boy out of his predicament even if he's applying pressure to the hand slings.

A fun, new toy made right here in San Francisco!

Important: Never suspend someone off the ground by their wrists alone. This may cause damage to their wrists or shoulders.