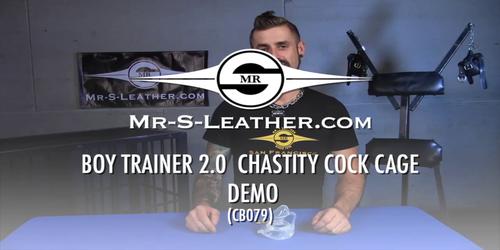 Boy Trainer 2.0 Silicone Cock Cage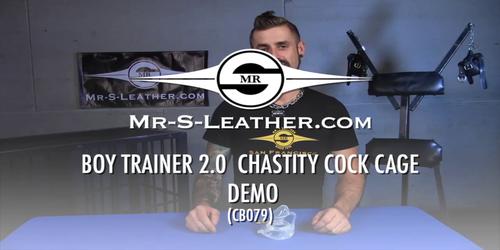 Boy Trainer 2.0 - Silicone Cock Cage

In the short time Mr. S Leather has been selling the "Boy Trainer" and the "Punisher", we have sold 1000's of these incredible Silicone Chastity pieces. Everyone who has worn them, loves them.

Now, we are proud to be able to offer you an updated deluxe version of the original Boy Trainer- the Boy Trainer 2.0. It's about 100% more comfortable than the original because of its newer design shape. Plus it's also much easier to get on. The newer design allows it to be made in only one size because of its adjustability to fit anyone.

The original Boy Trainer has always been one of the best of any of the smaller silicone chastity pieces... this 2.0 Version of the Boy Trainer will take being locked up to a newer long-term comfort zone that no other piece offers.

We have heard so many times from guys who really love chastity and being locked up for long periods saying, "I just wish there was something out there that I could really wear for weeks or months at a time and not have it hurt, or pinch or burn." We always felt the Boy Trainer came as close to that as anything. The Boy Trainer 2.0 (Neo) answers that demand for a more comfortable, naturally shaped chastity piece that molds itself around the lower stomach and cock.

You can see from the pictures here the redesigned shape of the cock ring. With this newer shape you can also use it with one of the Mr. S Hidden Ring Jocks (L50) to hold it snugly up against your body. Even one of our pouches fits over it all!

Mr. S Leather carries these medical grade silicone chastity cages in 3 styles. The Original Boy Trainer, The Boy Trainer 2.0 (Smooth inside) and the Punisher (Spiked inside). You can lock your boy up or yourself, in either of the smooth ones (CB071 / CB079) and wear it comfortably for days or weeks at a time. The Punisher (CB072) starts to get annoying after a few hours. But stay locked up in it anyway and deal with it. The thick silicone ball splitter separates your balls to either side of the strap in addition to having your cock locked into the silicone sheath.

Both styles are easy to wash and hypoallergenic. Their solid closing mechanism leaves the wearer in a flexible yet secure device, very comfortable to wear as it fits the male anatomy perfectly. The sheath may be crushed yet remain unbroken. And regardless of what you wear, it remains completely invisible under any clothes.

The cock ring size is about 1 3/4 inches in diameter... but because this is silicone it could stretch up to a 2" size or with the tightening of the strap, down to about a 1 1/2 inch diameter ring. So this one size should fit most guys fine.