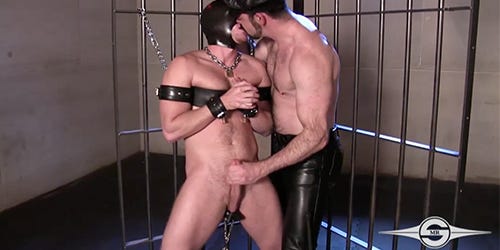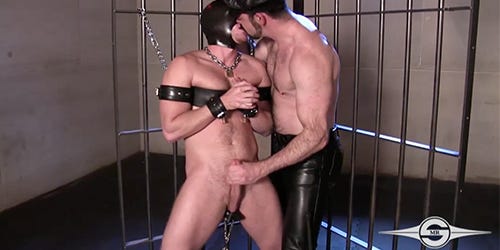 Chest to Wrist Restraint

We've revamped our Chest to Wrist Restraints to make tying your boy up even more fun. The chest strap is narrower so it fits even snugger. We've used slightly thinner leather in the arm and wrist straps which makes cinching them down nice and tight even easier than before. Three D-rings give you nice tie down points. With his hands "glued" to his chest and locked against the wall, his body is yours for the taking. 

A Thick 3 1/2" Wide Leather Lined Chest Belt wraps around your upper torso, and locks in back.
2 1/2" Wide Leather Lined Bicep belts lock around the upper arms, binding your arms to your sides.
Two more 2 1/2" Wide Leather Lined Locking belts then connect your two wrist to the Chest Belt in front.
Three D-rings act as the perfect tie down points.
Locks sold separately.

This position is comfortable enough for long term bondage or overnight sleeping and feels somewhat like being in a Straitjacket position. Once locked into this piece there is No escaping without the keys.

For "Solo" Bondage play:

Tighten the Chest Buckle with the buckle in the front of you and then turn the belt around with your hands so the buckle is in the back of you.
Slip your upper arms into the two side belts and pull them closed tightly.
Then buckle your wrists into the front wrist straps.
Lock the locking post.

Throw the keys away and you're in it until you can retrieve the keys.

It's pretty cool when you hear the keys land somewhere away from you! For an added 'challenge' use a blindfold when you toss the keys.

Small/Medium: Chest up to 40"

Large/X-Large: Chest 41"-48"