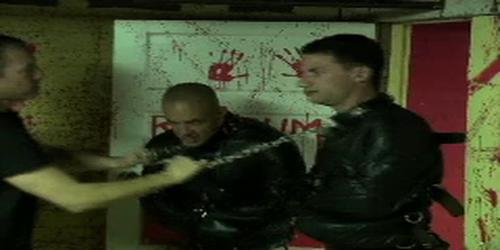 Deluxe Leather Straitjacket Original Version (Limited Supply)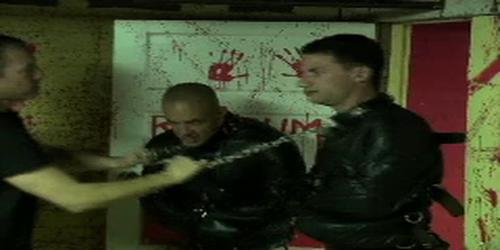 Deluxe Leather Straitjacket with Arms-Down Option
Fetters USA

If you've imagined the sensation that comes from being wrapped and strapped in the tightest body-hugging bondage, then you will want one of the extraordinary Mr. S Straitjackets. There is none better made worldwide than this Arms-Down version. You'll ask to stay in longer because of the comfort, and it may actually induce an out of body experience for you.

The SJ008 is one of the finest pieces of bondage equipment available. Once inside, with your arms crossed and pinned to you, six buckles cinch tightly behind you, and straps reach around you and up through your crotch. You are NOT going anywhere.

Struggling against the bonds of the straitjacket until you are exhausted and exhilarated, you fall back, body limp, and drift away in an altered state. A new light in your eyes greets your captor. Though unsure of what will happen next, you know that there is nothing you can do to resist or escape.

Luxuriating in an all leather straitjacket is the ultimate in tight-strapped bondage. Adding heavy leather padding to the elbows and hands can further enhance the sensory isolation of the experience. And for nipple play, tit flaps can be added.

If you are going to spend this much money for such a major piece of bondage gear, you might as well get the Rolls Royce of leather straitjackets, especially if you are going to be spending a lot of time in it.

The arms-down version allows the arms to be strapped to the sides of the body with 8 belts connected to double rings on the body of the jacket. A great position for long term or overnight scenes. The price of the SJ 8 Arms Down Jacket includes all the straps, as well as the Pinion Strap set for holding the upper arms in place.

This variation of the traditional straitjacket allows arms to be crossed in the front in the usual way, or to be crossed Behind the back, or strapped down to the sides of the body.

You'll never want to be taken out of this. Ask anybody who has ever spent any time in one of our Fetters/Mr. S Straitjackets what it was like.

Please be advised: For international customers, this is an Oversize/Heavyweight item and will have a shipping fee calculated at checkout.
Size Chart
| | | |
| --- | --- | --- |
| | Chest | Waist |
| Small | 38 - 39 in / 96 - 99 cm | 30 - 33 in / 76 - 84 cm |
| Medium | 40 - 41 in / 101 - 104 cm | 33 - 36 in / 83 - 92 cm |
| Large | 42 - 43 in / 106 - 109 cm | 36 - 39 in / 91 - 99 cm |
| X-Large | 44 - 45 in / 111 - 114 cm | 39 - 42 in / 99 - 107 cm |

Made in San Francisco