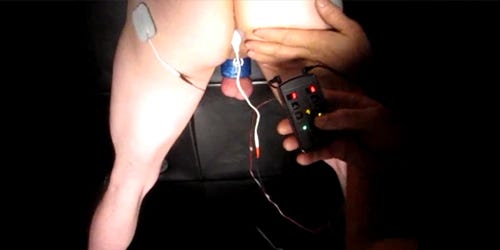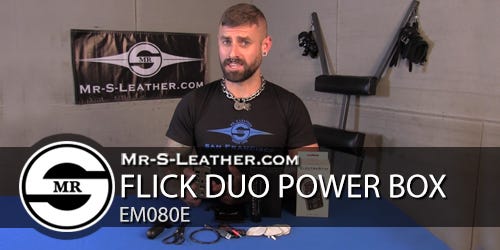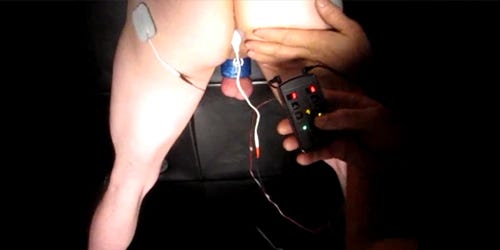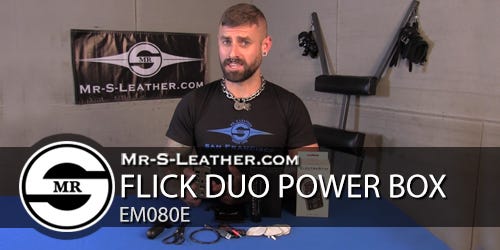 Flick Duo Power Box with Sticky Pads

Slap a sticky pad on your bottom's inner thigh. Stick another on your hip bone. Stick your rock hard cock up his ass and turn on the juice. The electricity will be flowing throw you both. Connected, completing the circuit. His ass will be clamping down as your cock throbs and pulses up his hot butt. It's just SOME of the fun you can have with electro. Come on, admit it. You want to – NO – you need to try it.

Here's why you got to have a Flick:
• Portability – you can put a plug in, put the controller in your pants pocket and get stimulated anywhere: in the car, on the bus or at the bar. This is the smallest, easy to use and fully functional box we've seen.
• One Handed Operation – fits in the palm of your hand and your thumb is all you need to change programs or go up and down in intensity.
• Plenty of Power – We tried this box on some of our biggest toys and the grimace on our boys' faces proved this box has all the power you need.
• Flick Feature – allows you to get an added jolt with a simple wrist movement. Any up and down motion you make with the controller sends an added punch of stimulation. Flick it lightly for an easy bump or flick it hard for a real ramp up. As soon as you're done with the movement, the power level goes back to your preset level. – Disable the flick feature when you want a more steady stimulation. Enable the Flick feature and really give a reminder of who's in charge to the boy you have hooked up.
• 6 Hour use with a Single Charge – built-in USB rechargeable battery
• 1 Year Manufacturer Warranty

The Flick Duo makes it easy. In fact, as a dual channel power box, the Duo lets you experience two different electro stimulations at once. Have a throbbing plug up your ass while cock loops keep your dick twitching, leaking precum the whole time.

Because it fits easily in the palm of your hand and has a simple interface for alternating intensity and patterns – including the Flick feature – you don't have to stop your play to use the full range this power box has to offer. With eight different stimulations modes PLUS fifty additional Flick levels, you're going to love the possibilities. They're endless.

Independent intensity controls allow you to set one output easy and the other hard. Set your Flick Duo on an alternating stimulation pattern and enjoy the, 'Oh and Aww!' that gets you off.

No scrambling for batteries with the Flick. Built in rechargeable battery plugs into any USB port. USB charging cable included. Now THAT is cool!

Key Features:
• Two independently controlled outputs
• Revolutionary "Flick" feature
• 8 built-in stimulation patterns/programs
• 25 Intensity Level LED Displays
• 5 Level Flick display – 50 Flick levels
• Slim ergonomic design with soft touch finish
• Durable control panel with tactile buttons

Pack Contents:
• ElectraStim Flick Duo two channel stimulator
• Stimulator output cables (2)
• USB charging cable (Wall Adapter Not Included)
• 4 square self-adhesive electrode pads
• Drawstring Storage Pouch
• Instructions

Have questions about which accessories we might recommend? Need to know what connectors you might need for your power box? Give us a call or write us an email. We're experts. We'll make sure you get what you need to open the box and get off!