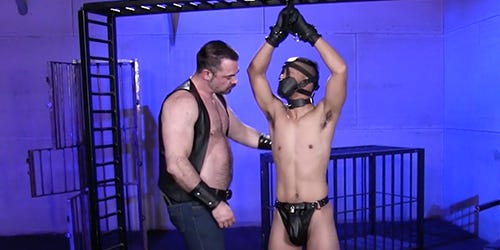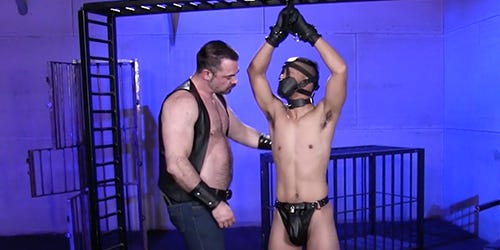 Leather Bondage Mitts

Having rope and restraints can be great, but it's important to also keep hands away from all those knots and locks if you really want to make sure they stay put. Leaving your boy tied up to only come back and discover he's slipped out or worked lose a good hog tie is simply unacceptable. Our mitts keep pesky fingers at bay and are ideal for taking more control away from your sub. He'll know he's in a serious predicament once these are put on…

These mitts extend well over the wrist and provide the ideal location for any restraint. As arms are struggling to get free, the forearm is protected by the mitts. There is also a hard leather edge at the end that helps keep your restraints in place. This is especially handy when you're using rope or handcuffs. Far less friction on the skin and your handiwork won't go sliding far from where you put it. 

Restraints are not required as the Velcro closure keeps them in place and provides adjustability. Just having the leather wrapped around your hands can send a strong signal all by itself. If you do choose to use a restraint, we made sure our Essential Wrist Restraint fits perfectly. 

Two sizes to choose from. Measure the circumference of your closed fist at the knuckles. If you're under 11", then go with the S/M. If you're over 11" then select the L/XL size.