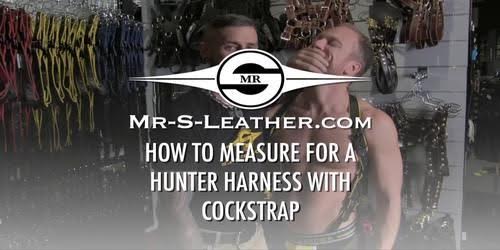 Hunter Harness 2.0 White Piped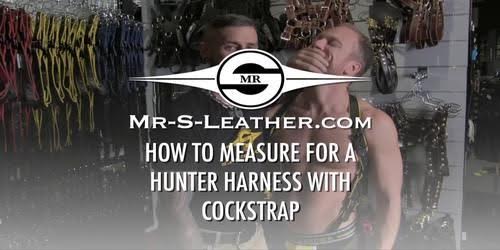 Hunter Harness 2.0 - White Piped

We've re-designed our Hunter Harness to give it an even sexier edge. Wider straps give you a hot, uber masculine look. Looks great shirtless with a pair of jeans or with one of our Leather Sports Jocks when you want everyone to know you're ready to play. Multiple levels of adjustability let you really grow with this piece. A hot new look for the long, hot summer.

Shirts on or bare chest, this harness looks great! These aren't just another way to hold up your pants. The Hunter Harness 2.0 gives you the feel of a sexy harness with the utility and style of leather suspenders. They wrap around your shoulders in a figure eight with a two and a half inch ring holding the four straps in the center of your back. Black buckles set off your pecs and lets you adjust the harness portion of this suspender combo to exactly the right fit.

Two inch black rings connect the harness straps to two suspenders that clip into your front belt loops. Adjustable snaps make it easy to clip into front belt loops to show off your cum gutters or side belt loops to highlight your lats and abs.

Now with optional Cockstrap for Hunter Harness (H026C). Take those side straps down your cum gutters right to a two inch metal cockring. With the Cockstrap add-on you get a standard Hunter Harness (straps to belt loop clips) AND a pair of interchangeable straps down to a cockring.

Sizing info for the Hunter Harness 2.0: With the new addition of three snaps on the side strap, two snaps on the shoulder strap, four snaps on the waist straps, plus the buckle at the shoulder, the regular will fit many, many guys.  We would recommend a larger size for the following situations:  guys with a chest over 46" and guys over 6'2" with a chest bigger than 42".  

Once the harness is in the proper place, the ring will be under your pec muscle and back towards your armpit slightly (see photos for reference).

Sizing info for the Cock Straps: We need to know the distance from the ring by your chest to the top of your cock (same ring as described in the step above). Using the photos as a reference, locate the spot under your pec and back just a little towards the armpit. Measure from that spot to the top of your cock. Try not to hunch over as you do it. Don't worry about the measurement being off by an inch or so - the adjustability in the harness and the buckle in the cockstrap will make the fit right.