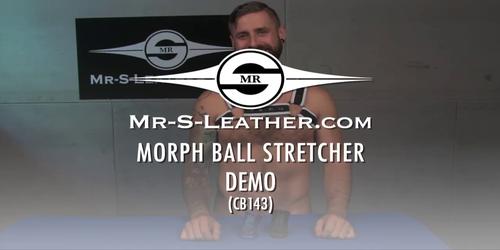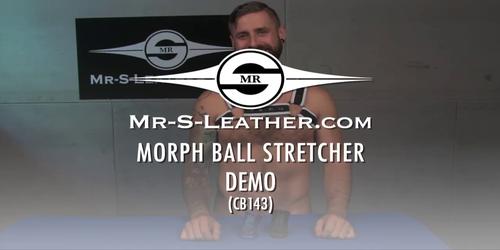 Morph Ball Bender

The Morph is a thick squishy tube of 100% silicone that's designed to really stretch your sack down nice and low. The soft material and curved shape fit nice and tight on your nutts and cling to you like a second skin. Each end of this stretcher is tipped with a blubbery rim that gently rests on your sack and pulls your balls down low for a comfortable all-day stretch. The outside of the Morph is covered in a sleek geometric pattern that helps keep its shape and strengthens any stress points to prevent tearing.

You can wear it two ways. Wear it so that it curves your balls to the front and you've got a super comfortable stretcher. Unlike other stretchers that keep your balls in between your legs, with the Morph you can walk around the city (and even sit down) and be extremely comfortable. It puts your balls right on display too so it makes it great for a little CBT. Wear it so that your balls get shoved backwards and it'll feel great as you feel your balls slapping against your thighs as you jack off, or feel every rough thrust as you get your hole pounded.

Silicone is softer and more flexible than neoprene or leather and it doesn't start to develop that funky smell over time. Plus, it's also a cinch to clean with just soap and water. The silicone is so tough that you can even run it through the dishwasher.

Wear the Morph while running errands or to the gym and enjoy the feel of your sweaty balls swinging loose and low in a thin pair of workout shorts. The guys will be drooling all over your obscene bulge snaking down your leg.

Made in USA…design copyright OXBALLS

Pure Platinum Cure Silicone

Lube safe: water-based (recommended), oil based, water/silicone hybrid, silicone

Cleaning: detergent and hot water, dishwasher, or soak in a diluted bleach/water solution.
Height
Circumference
3" (8 cm)
5.25" (13.3 cm)