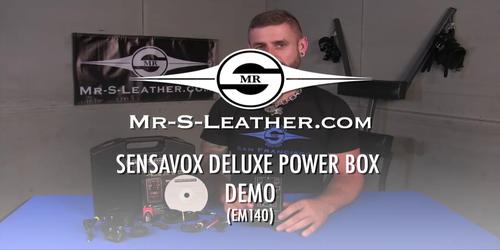 SensaVox Deluxe Power Box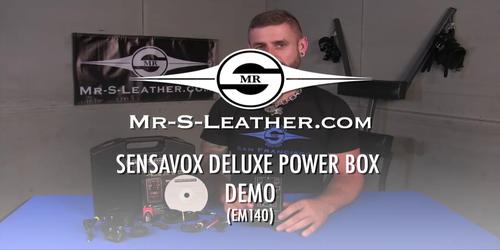 ElectraStim's SensaVox Deluxe Power Box

Mr. S is introducing some 30 New Electrical accessories that are being produced by ElectraStim in the UK. This EM140 SensaVox is their Deluxe 2 channel Power Box that can be used with all their accessories and with the correct adapters, can also power any and all the other accessories Mr. S has always carried. These boxes are widely used throughout Europe and come with a worldwide universal power adapter as well as it can be used with just the supplied 9 Volt battery.

Even if you already own any of the Erostek or Folsom boxes you might want to add one of these ElectraStim boxes to your collection for even more variety in your electrical play. The wires supplied with this box have the "Pin Ends" on them, which will fit directly into any of the new ElectraStim accessories.

Developed especially for the Electro Stimulation Connoisseur the ElectraStim SensaVox has stacks of features and heaps of finely controllable power!

Features & Benefits

• 2 Independent Isolated Output Channels - This means you can use two bi-polar accessories at the same time - all on your own or share with your partner
• High-Intensity Output Power - You will Never be left wanting for more Fully Controllable Power
• SensaVox Audio Input Feature - Your Voice Has Never Been So Powerful! Voice Activated Stimulation and Special Sound Effects from Supplied CDROM
• 9 Built-in Modifiable programs - A wide range of programs for single and
• Bright LED Displays - Output Intensity is Clearly Displayed from 0 to 99 on Each Channel
• Optimal Multi-turn Digital Intensity Control - Four full rotations of the positive click intensity control knobs are required to get to 99 but we doubt you will get all the way!
• Boost Feature - Both outputs are Boosted by 25% at the Press of a Button
• Economy Power Saving Mode - Special battery preservation features

Built-in Program List

• Smooth
• Swinger
• Burst
• Alternate
• Stepper
• Shooter
• Auto Climb
• Climax

Kit Supplied

• The ElectraStim Em140 Dual Channel Digital Stimulator
• World Compatible Universal Power Adapter
• Stimulator Connecting Cables (x2)
• Microphone
• Audio Line In Cable
• 3.5mm jack coupling
• Audio Effects CDROM
• Comprehensive Instructions
• Sturdy Storage/Carrycase

Have questions about which accessories we might recommend? Need to know what connectors you might need for your power box? Give us a call or write us an email. We're experts. We'll make sure you get what you need to open the box and get off!