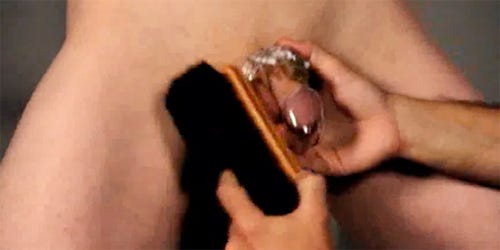 Spike Inserts CB6000/The Curve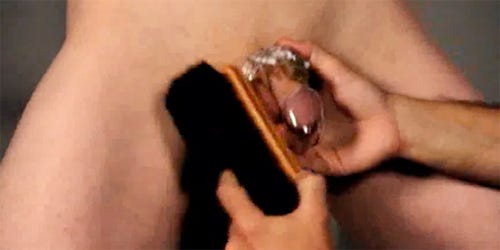 Spike Inserts
For CB-X Chastity Devices

This piece is for all the boys who like to say, 'Oh I could get out of this,' or 'That doesn't hurt so bad.' Now you can say – with that great sadistic smile of yours – 'Oh no you can't,' and 'Oh yes, it does.'

Designed specifically for the CB6000 [CB411] and The Curve [CB422] chastity devices, these Spike Inserts come as a set of three sizes for every scene:

The Small – for long-term wear when you want him locked up for extended periods with only his erection causing him grief.

The Medium – for anywhere from a day to a couple of days of chastity and a constant reminder right at the base of his dick of exactly who's in charge.

The Large – for a scene where you want him in the double agony of having his swelling cock suppressed and feeling five large spike pressing into the top of his cock.

The real genius of this product is that the pressure from the five dull spikes is constant – in all three sizes. Even in the smallest size, over time the contact area is going to get ever more sensitive until eventually it starts to become as unbearable as not being able to cum for one, two…five or even ten days.

The Medium spikes didn't seem that intimidating to our in-house whipping boy until about three hours later. We noticed every time he had something to say this look of agony was on his face. Another three hours later and he told us, 'This thing has to come off…Please, Sir.' Put any of these inserts on your CB6000, Curve or older CB-X model chastity devices and it makes it ABSOLUTELY escape proof. He won't even think about trying to pull his cock out past the spikes. He feels truly locked down because he is. Consider this piece the deadbolt on your door.

Our favorite way to play – have a boy locked up and whisper all the hot and nasty things he's always wanted you to say to him. Then, while he's all hot and bothered, take horse hair brush to the underside of his nuts. Once he starts writhing around, run your brush across the piss slit opening at the head of the chastity device. If he's not howling, you should check his pulse. This is a guaranteed good time – for you, anyway. And that's all that matters. Isn't it?

We've heard some really sadistic tops out there even sharpen the spikes to really make these Spike Inserts EXCRUCIATING.