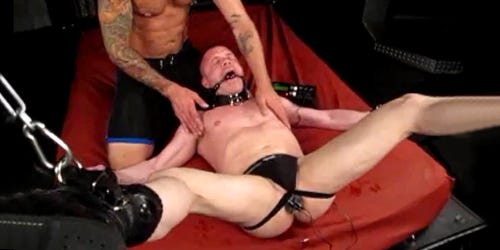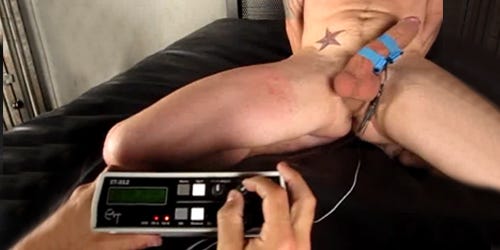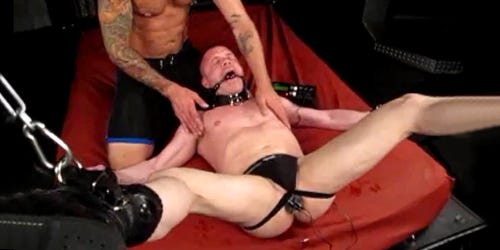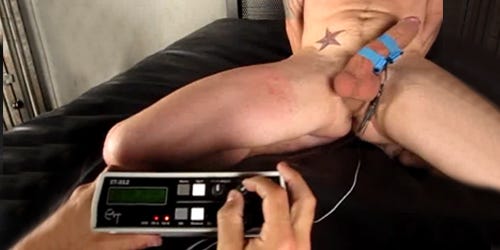 The ET312 is the GrandDaddy of ALL electrical Power Boxes!

Whether you've been into electrostim for awhile or are just getting started, there is something to be said about having the best and safest equipment. Until now, there was no single device that offered the power, safety, and ease-of use of the ET-312. American designed and crafted. This machine is the result of over 3,000 hours of focused design effort, with one single end in mind. . .
eStim Excellence!
Offering 18 pre-programmed modes to provide a variety of sensations all under computer contol without annoying knob twiddling! By way of two durable pushbuttons, each mode can be quickly selected on the bright, backlit LCD (liquid crystal display). Once selected, the speed and frequency can be adjusted using one single "MultiAdjust" knob, The intensity level is easily adjusted using separate knobs for channels "A" and "B" with the current level displayed in percent (0 - 100%) right on the LCD!
These features yield an experience beyond a page full of specifications! The ET-312 is powerful, precise and easy to use. There is no other power unit like the ET-312 anywhere. We know. We play with these units ourselves all the time. . The future of electro-stimulation is here! No Matter Which Power Box You Use, You'll Want to Upgrade to the Best and the Most Powerful Box on the market!
Erostek Super Power Box (with Internal Rechargable Battery)
Despite extremely high demand for Erostek's previous products, they've been hard at work since 1999 developing something even better.
The new 2nd generation ET-312 sets new standards with many ground-breaking innovations.
Erostek has invented a computer interface that allows creating, downloading and sharing sophisticated stimulation routines, and they've added an LCD display for unparalleled ease of use, while new circuitry delivers sensations unlike anything you've experienced before.........It's e-stim done right!
Some of the ET-312's Features:
18+ Unique Modes for Maximum Variety!
ErosLink Computer Interface
Upgradeable at No Charge
32 Character Lighted LCD Display
Special High Frequency Output
Unique TriPhase Stimulation
New Stereo Audio Input
External Microphone Included
Multiple Intensity Ranges
Easily Link Two Units Together
Enhanced Safety
Exclusive Multi Adjust Control
18+ Unique Modes- The ET-312 offers 18+ unique modes (stimulation routines) designed to appeal to different tastes, moods and needs. An additional six modes (24 in all) can be programmed to anything you like using our ErosLink software product. The ET-312 simply offers far more variety than anything else out there.
32 Character Lighted LCD Display - The ET-312 uses plain English to display the various modes and settings. This makes it extremely easy and intuitive to use. The flexible display also allows for new modes and options to be displayed in the future. It's even illuminated so you can easily use the ET-312 in subdued lighting.
Computer Interface- The ET-312 features an exclusive multipurpose Link Interface. With our optional ErosLink software, this allows downloading and trading stimulation routines over the Internet. You can even design your own. Once the routines are loaded into the ET-312, they're retained so the computer is no longer needed. We're even working on software allowing real-time control of the ET-312 over the Internet--giving "cybersex" a whole new meaning.
Upgradeable- The Link interface allows new stimulation routines to be loaded into the ET-312 as they become available. Once you have the ErosLink software, these routines are free of charge for life! As we develop new routines, or users submit them to us, we'll make them available for download. This makes your investment obsolescence proof and assures unlimited variety.
High Frequency Output- Several competing units suffer from a maximum frequency that's too low. Lower frequencies are generally perceived as feeling "rough" or "harsh" while higher frequencies are smoother and more erotic. The ET-312 offers higher frequencies than nearly all of the competition and even our own previous units. It does so without sacrificing safety or maximum intensity. Smaller units powered with a 9 volt battery cannot match it's power and frequency capabilities. Their batteries are just too small.
TriPhase Stimulation - The ET-312 breaks new ground in being able to create three simultaneous sensations from only two channels using a special 3-wire connection. A virtual "third channel" is created through unique phase effects. See the Technology section for more details. Please note: TriPhase Adapter is temporarily unavailable. Contact us with any questions! help@mr-s-leather.com
Dynamic Pulse Technology- This is our proprietary technology that makes it all possible. A high-speed digital processor dynamically adjusts nearly every waveform parameter in real time to deliver more variety and advanced erotic sensations than anything else available. Our Technology section has the full story.
Stereo Audio Input- We've substantially upgraded our audio features, and the ET-312 can independently process two channels of audio. We even include the cable to connect a portable CD player or any device with a standard headphone jack.
Wave File Compatible- Using the supplied cable, you can connect the ET-312 to the audio output on your computer or MP3 player--no special software is required. Using advanced digital signal processing, high duty cycle PC wave files are transformed into much safer low duty cycle TENS-style waveforms. The frequency, amplitude and phase characteristics--and therefore the effects--of the original signals are largely preserved. This opens up many new options and still more variety that doesn't cost extra.
External Microphone- Customers asked for an external microphone input for increased versatility and we delivered. We even include the microphone at no additional charge. As with our pervious products, it's sensitive enough to detect even a whisper. This allows many new and creative audio applications!
High Quality Made in USA Design- The ET-312 is proudly made in the USA with the finest components. Much of the construction is done on a semi-automated assembly line conforming to ISO 9002 quality standards.
Easy Operation- Just like a fully automatic "point and shoot" camera, the ET-312, if you desire, can automatically make most adjustments for you. The unit operates just like our previous ET-212. You simply pick a mode, set the levels, and the Multi Adjust control lets you fine tune the best parameters for that mode. The modes are displayed in plain English on the display. It's all very "user friendly"--even for a novice.
Advanced Menu Mode- Like a high-end professional camera, the ET-312 provides optional controls for the advanced user. While most folks will be more than satisfied with the large number of modes and variety the ET-312 offers right out of the box, we've added another set of advanced menus and options for serious users. These allow individual adjustment of multiple stimulation parameters, and each channel can be set independently to the mode of your choice to create new combinations.
Multiple Intensity Options- Most of our customers never use the full output of our products. For that reason, we've added a new Low Power setting that limits the maximum intensity. This makes adjustments easier and safer. For those few hardcore folks for whom too much is never enough, we've added a new High Power setting that manages to exceed what even our previous models can deliver. That's three power ranges in all to meet virtually anyone's needs.
Link Interface- In addition to providing a PC connection, our exclusive Link Interface allows two ET-312's to be connected together. Stimulation is coordinated across the Link so it's like having a single four-channel unit! An inexpensive Link Cable is all that's required.
Rechargeable Battery- The ET-312B includes a high-capacity long life battery. Many users find they can go a month or longer between charges even with regular use. We also use regulated power circuitry. This means as the battery discharges, the intensity of the output remains constant. We designed special charging circuitry that charges fast and shuts off automatically. The battery is free from "memory effect" and rated for more than 1000 charging cycles.
Built In Self Test Diagnostics- Every time you power up the ET-312, it automatically tests its own critical circuitry. In the unlikely event a problem is detected, the ET-312 will alert you with a plain English warning message.
Exclusive Multi Adjust Control- A single "smart" control automatically selects the best adjustment parameters for each mode. This makes "fine tuning" extremely easy and avoids a lot of confusing controls. Only ErosTek has it.
Symmetrical Bipolar Waveforms- We believe our medical grade symmetrical bipolar waveforms are safer and there is scientific evidence to back this up. They also deliver more consistent stimulation than the asymmetric waveforms used by our competitors. See our Technology section for the inside story.
Independent Isolated Outputs- The outputs are fully isolated both from each other and the other connections and inputs for maximum safety. They are also completely independent--each channel can be doing something totally different from the other.
Industry Standard Connectors- We use the most popular 3.5mm output connectors that work with virtually all erotic cables and accessories. This assures wide compatibility and ease of use.
Flexible Configuration- We put all the controls and connections on a single panel to make the ET-312 easier to use. It can be laid down flat, put on a shelf or stood up on end for maximum flexibility. The special LCD display has an unusually wide viewing angle to make it readable from nearly any position.
Included Accessories- Every ET-312 comes with a pair of output cables, an audio cable, an external microphone, a UL Listed (CE/TUV for Europe) AC power adapter and a detailed instruction manual.
Ultimate Value - The ET-312 does more than all our competition's products combined. The ET-312 contains far more circuitry and costly components as well. From the high capacity rechargeable battery, to the bipolar circuitry to the special safety measure, it's in a league by itself. Despite all this, we've managed to keep the price competitive with other high-end erotic units.

For full product specifications, please Click Here

ErosLink is not available for Mac OS

Have questions about which accessories we might recommend? Need to know what connectors you might need for your power box? Give us a call or write us an email. We're experts. We'll make sure you get what you need to open the box and get off!

Warranty Repair - One year from date of purchase