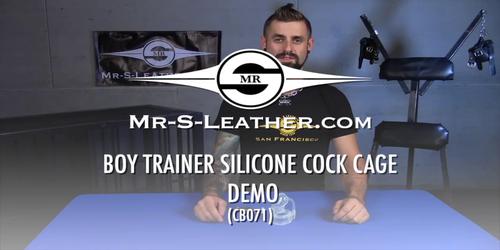 The Boy Trainer Silicone Cock Cage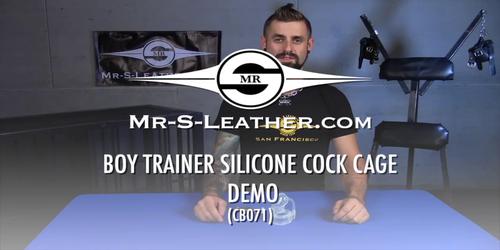 The Boy Trainer - Silicone Cock Cage

Mr. S carries these all medical grade silicone chastity cages in 3 styles. The Smooth inside sheath and the Spiked Inside Punisher. You can lock your boy up or yourself, in the Smooth inside sheath (CB071 & CB079) and wear it comfortably for days or weeks at a time. The spiked Punisher (CB072) starts to get annoying after a few hours. But stay locked up in it anyway and deal with it. The thick silicone ball splitter on both styles separates your balls to either side of the strap beside having your cock locked into the silicone sheath.

Both styles are easy to wash and hypoallergenic. Their solid closing mechanism leaves the wearer in a flexible yet secure device, very comfortable to wear as it fits the male anatomy perfectly. The sheath may be crushed yet remain unbroken. And regardless of what you wear, it remains completely invisible under any clothes.

The cock ring size is about 1 3/4 inches in diameter... but because this is silicone it could stretch up to a 2" size or with the tightening of the strap, down to about a 1 1/2 inch diameter ring. So this one size should fit most guys fine.

The "Punisher" sheath (CB072) is equipped with 17 inside spikes made of flexible silicone.

The sheath contains 17 silicone spikes which will bite into the head of your cock as soon as you start to get hard.. The spikes are made of flexible silicone, but prolonged usage may provoke extreme sensations and annoy the piss out of your boy. This is the device to use to punish him for a few days or if he's a Pig, keep him locked up in this one All the time.

As in any of these chastity devices, including the CB3000 series, they are Not escape proof. With some maneuvering and pulling you can slip them off. It's the nature of plastic or silicone. But these are so comfortable to wear, you won't really want to get out of them. Plus since these are made from a soft thick silicone, they can't crack or break like the plastic sheaths may.

If you enjoy Chastity as part of your sexual play.... you should definitely add one of these devices to your collection. (Or one of each style). It will quickly become one of your favorites to wear for long periods of time. Lock included.
Length
Ring Length
Sheath Length
Tube Diameter
Thickness
3.7" (95 mm)
1.2" (30 mm)
2.5" (65 mm)
1.3" (33 mm)
.15" (4 mm)
It is so comfortable you will tend to forget you are wearing a chastity device; thanks to its numerous air holes, you can wear the sheath every day, go to the bathroom, wash yourself without ever having to remove it. It is easy to put on but, once it is closed, not so easy to get off.

Imported from Birdlocked of Switzerland - the Original makers of the silicone chastity cage. Is there a specific product outside our collection that you would like us to order for you? Give us a call or write us an email!