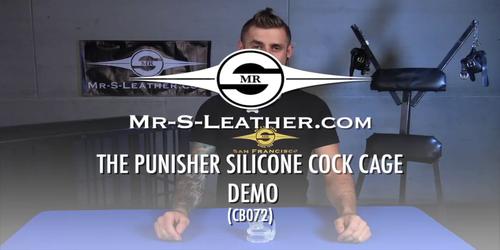 The Punisher Silicone Cock Cage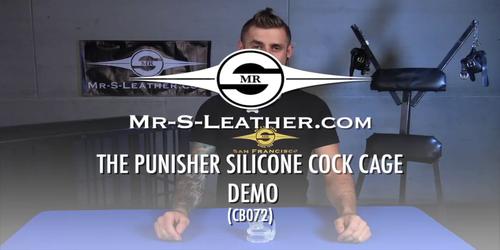 The Punisher - Silicone Cock Cage

This "Punisher" sheath is equipped with 17 inside spikes made of flexible silicone.

The 17 silicone spikes which will bite into the head of your cock as soon as you start to get hard. The spikes are made of flexible silicone, but prolonged usage may provoke extreme sensations and annoy the piss out of your boy. This is the device to use to punish him for a few days or if he's a Pig, mainly keep him locked up in this one All the time.

Mr. S carries these all medical grade silicone chastity cages in 2 styles. The 'Plain' sheath (Boy Trainer 2.0) and the Spiked Inside Punisher. You can lock your boy up or yourself in the Plain one (CB079) and wear it comfortably for days or weeks at a time. The Punisher (CB072) starts to get annoying after a few hours. But stay locked up in it anyway and deal with it. The thick silicone ball splitter separates your balls to either side of the strap in additional to having your cock locked into the silicone sheath.

Both styles are easy to wash and hypoallergenic. Their solid closing mechanism leaves the wearer in a flexible yet secure device, very comfortable to wear as it fits the male anatomy perfectly. The sheath may be crushed yet remain unbroken. And regardless of what you wear, it remains completely invisible under any clothes.

The Punisher comes in cockring size: 45mm/1.75", and has some flexibility to stretch wider or to be tightened by the included strap.