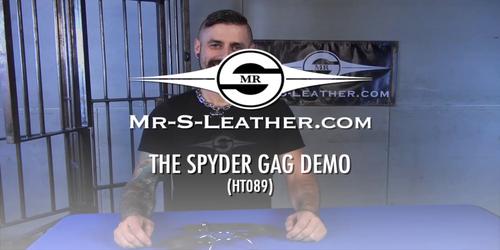 The Spyder Gag A Mr. S Leather Exclusive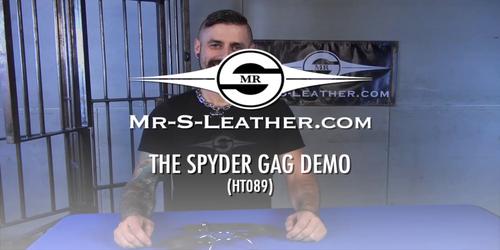 The Spyder Gag

Our infamous Spyder Gag just got better. We've replaced the leather head straps with thick rubber straps so your boy can drool all over this piece…. and once you get this in his mouth he really won't be able to anything but drool.

This is a piece we are really excited about. The second we put this on one of our boys we could see the fear in his eyes- he knew what we were going to do with him and he knew he was defenseless.

It first appeared on Bound Gods and got us so hard we set our craftsmen out to recreate it. This piece is constructed just like the original- not like some of the knockoffs you might see out there. The stainless steel center ring is 2 1/8 inches tall and has a 1 5/8 inches inside diameter, the perfect size for feed your piss and cum to the boy. He will be begging to suck your dick but this gag will keep YOU in control- all he'll get is a little taste (and a lot of sloppy drool). The four side prongs give that hot sexy spyder look and the fully adjustable D-ring strap allows you to get that perfect fit.

Check out Bound Gods to see the gag in action- or come up with your own uses. Maybe it's time to make your boy a urinal!