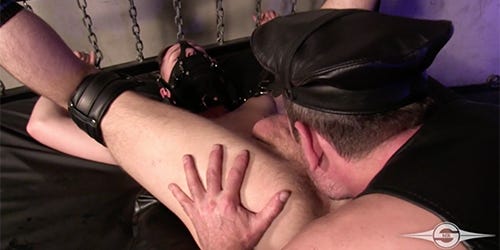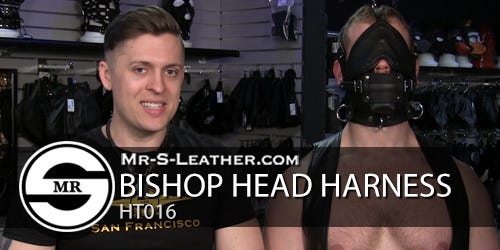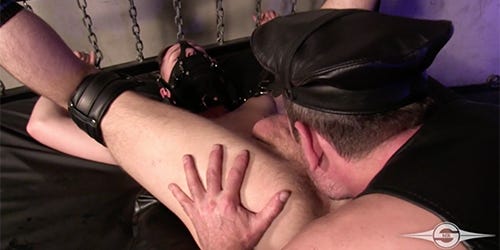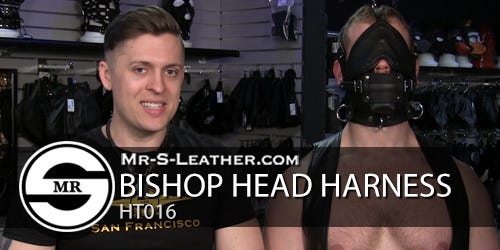 Bishop Head Harness

One of the Best Head Trips you'll ever experience.

We looked at the drawings of the late "Bishop" for inspiration for this head harness and asked Skeeter our Production Manager to create one of these magnificent headpieces. The result is not only an incredible head harness, it's one of Bishop's spectacular visions made real.

Absolutely one of the best head harnesses I've ever worn!

Constructed out of soft garment leather with a mouth opening that is similar to the mouthpiece on our Tight Hood, HT2.
Six buckling straps, two of which close around the back of the neck, secure the harness firmly to the head. A Very Hot Look!
The Bishop Head Harness has a snap-on blindfold and a NEW separate Strap & Buckle Gag for more versatility.
The entire gag and connecting buckles snap Off the headpiece when not in use.
This New configuration makes it easier to put the gag in and take it off, than the original snap design.
Extended wear is not a problem with the open nose design.
The three 'D' rings on the neck collar and 'D' ring on top of the harness make perfect attachment points for ropes or clips.
Can be used with the Blindfold cover that covers with this muzzle OR you can use one of your own elastic strap blindfolds instead, for an even tighter fit.

Bishop Muzzle. Comfortable, versatile, and good looking.

"This harness gets our vote for Best New Design" - Richard Hunter-Owner.

The Bishop Muzzle is an original and exclusive Mr. S Leather design. Beware of poorly made cheap knockoffs.

Comes with:

Detachable eye cover
Pecker gag insert
Flat leather mouth cover.