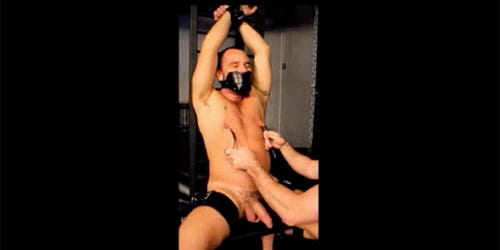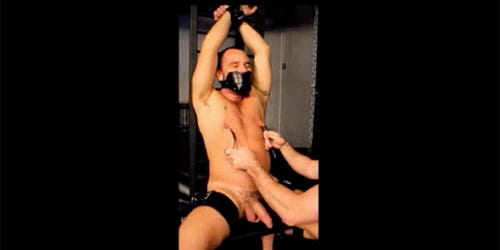 Leather Breather Gag

Maybe it's just me, but I think any hot guy always looks better with a gag in his mouth...or at least something shoved down his throat.

Mr. S has created Two new Muzzle style gags. One in Leather (shown here) and the same style now in Neoprene (NEO520). Both have a soft rubber penis gag with a breather hole in its middle. This new gag is small enough not to cause discomfort to your jaw, but large enough to fill the mouth nicely. The center hole allows for easy breathing thru the mouth while gagged. We have adapted the lower half of our Head Harness Muzzles (HT13) to cover the mouth and chin and added a strap that buckles in the back of your head to hold it all in place. It's a Hot look! This Leather strap also has a hole in it to line up with the hole in the gag itself. You can always move the strap hole over a couple of inches to block the breather hole in the gag, and cut off the air flow thru the gag. Just an idea for intensifying the scene by cutting off the boy's oxygen. Don't panic, he can still breathe thru his nose. The Neoprene version has a small tube that protrudes thru the strap hole, that can be pinched closed.