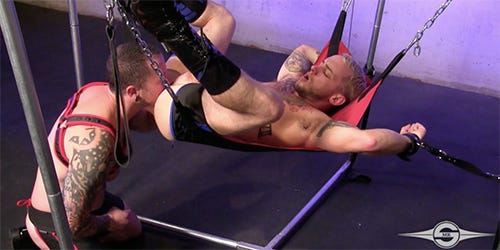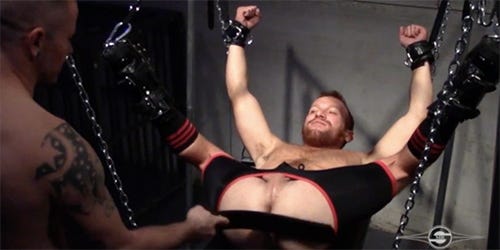 Quick Pull Bondage Straps - Pair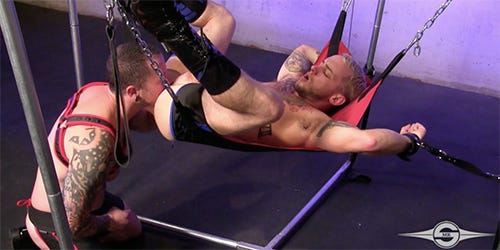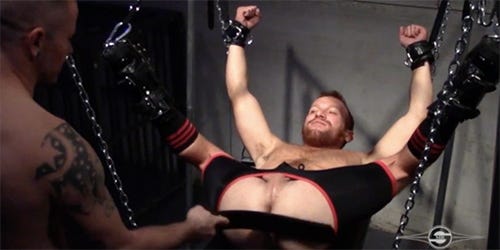 Quick Pull Bondage Straps

Truss your boy up like the piece of meat that he is in our line of simple, yet effective bondage gear. We based this design off of the cinching straps on motorcycle helmets. With our quick pull system you can get your boy in a predicament in no time. Is he not bound tightly enough? Just cinch him down some more by pulling the strap. He won't be getting out until you say so. There are no knots to tie or long hanks of rope to manipulate so you get to spend a lot more time using him like he wants to be used. Getting him out is easy. Just pull on the red quick release tab. Sold in pairs. Check out our instructional video on how to use these. Better yet, just watch the scene we did with our boy- it will get you creative juices flowing.

Each Strap is 5' long - sold in sets of two.

Just practice once or twice and you'll be a pro:
 - Wrap the strap through bondage point #1 (usually the d-ring on a wrist or ankle restraint)
 - Loop the strap back through the middle o-ring and pull tight
 - Wrap the strap around bondage point #2 (like a bed post, chair leg, etc...)
 - Feed the strap through both smaller rings, fold back and feed through the o-ring with the red strap
 - Just need to feed 2-3" through and you're done. Pull though as tight as you need
 - If you need them to be tighter, just keep pulling through the scene as needed

To release, just pull back on the red leather tab to loosen the straps.