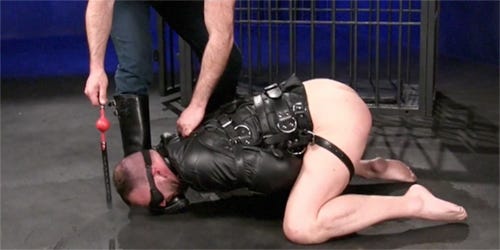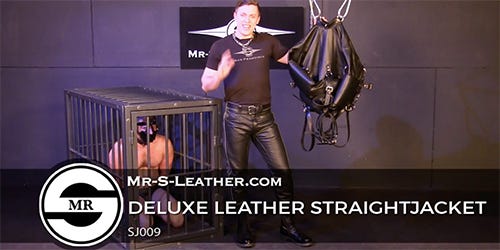 Deluxe Leather Straitjacket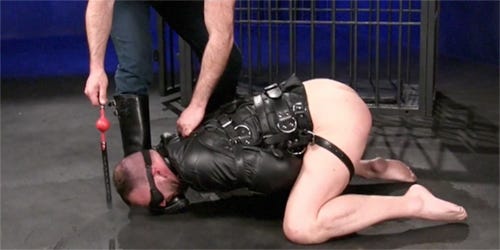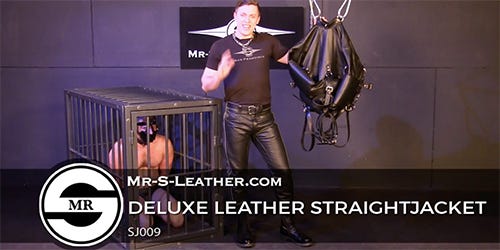 Deluxe Leather Straitjacket
Fetters USA

If you've imagined the sensation that comes from strapped into tight body-hugging bondage, then you will want to try out one of our Deluxe Leather Straitjackets. You'll ask to stay in longer because of the comfort, and it may actually induce an out of body experience for you. This one of the finest pieces of bondage equipment available. Once inside with your arms crossed and pinned to you, four buckles cinch tightly behind you and straps reach around you and up through your crotch. You are NOT going anywhere.

Struggling against the bonds of the straitjacket until you are exhausted and exhilarated, you fall back, body limp, and drift away in an altered state. A new light in your eyes greets your captor. Though unsure of what will happen next, you know that there is nothing you can do to resist or escape.

This classic Fetters USA design has just received a brand spanking new re-design. We modified our construction process for a better, more comfortable style and fit. Velcro was added in the back to make getting into the straitjacket simpler. The padding around the arms was moved to really focus on the elbow area so you can comfortably stay locked in. Additionally we've moved the placement of the leg straps. Now these straps frame your ass like a jockstrap so you get a better look and it feels great too. We also updated the belting around the piece to 2" wide belts. This makes it easier to cinch it on and gives an even more secure, tight fit for the wearer.

Six additional straps are included which allow you to use the jacket in our unique arms down fashion. With the arms down, you're put into a position similar to a sleepsack. Great for extended, even overnight, sessions since it takes away pressure on your joints.

You'll never want to be taken out of this. Ask anybody who has ever spent any time in one of our Fetters/Mr. S Straitjackets what it was like.
Size Chart
| | | |
| --- | --- | --- |
| | Chest | Waist |
| Small | 38 - 39 in / 96 - 99 cm | 30 - 33 in / 76 - 84 cm |
| Medium | 40 - 41 in / 101 - 104 cm | 33 - 36 in / 83 - 92 cm |
| Large | 42 - 43 in / 106 - 109 cm | 36 - 39 in / 91 - 99 cm |
| X-Large | 44 - 45 in / 111 - 114 cm | 39 - 42 in / 99 - 107 cm |
Options you can add to our Leather Straitjacket:

Quilted Padding: Heavy padding in hand and elbow areas, stitched with diamond pattern.
Leather Lining: Soft leather lining added to inside of straitjacket (black leather only, but can be inside brown jackets).
Tit Flaps: Tit flaps give access to another play area on the straitjacketed victim, but gives a slightly less restricting feel to the straitjacket.

Designed and manufactured in San Francisco