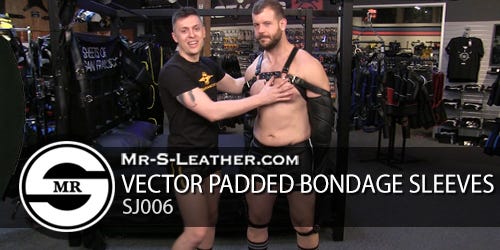 Vector Heavy Padded Bondage Sleeves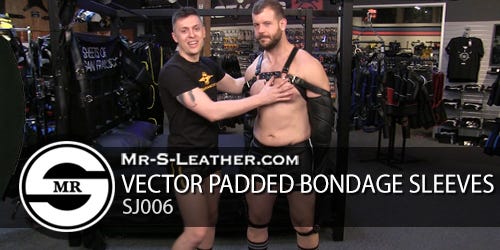 Vector Heavy Padded Bondage Sleeves

With the Vector Heavy Padded Bondage Sleeves, we've created an inescapable bondage experience that allows you to create an arms crossed straitjacket style scene or an arms down sleepsack like scene. We took the heavy padded arms from our Vector Straitjacket and combined it with a harness skeleton giving you all the functionality of a straitjacket at a fraction of the cost. The heavy padding means your joints will stay comfortable so you can stay in these sleeves for the long haul. And since you're not completely covered you won't overheat.

When your arms are wrapped in the heavy padding you lose all sense of touch and as the sleeves get attached to the harness skeleton you'll soon realize you're trapped with no way out other than your captor. The harness is made from heavy duty latigo leather to provide support while the sleeves are a comfy, quilted garment leather. With the sleeves you also get 6 belting straps. These straps include multiple levels of adjustability so you can cinch these down on pretty much anyone. Included are the following:

One adjustable pinion strap
One small buckle pinion strap
Four 34" belts
Two 22" belts

A great new design from our SF production department to fulfill your bondage fantasies.

Please be advised: For international customers, this is an Oversize/Heavyweight item and will have a shipping fee calculated at checkout.