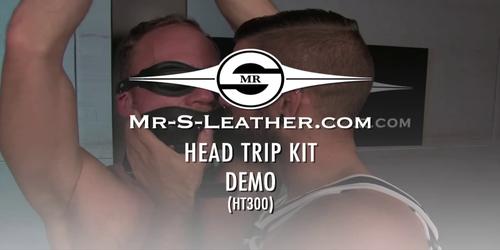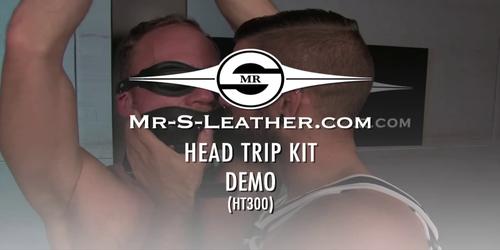 Fetters USA Head Trip Kit

When it comes to your favorite boy, some times only the best will do! Now you can get three of our best-selling bondage items in one convenient package, and save a load of dough. Included in this Kit: Fetters USA Padded Blindfold, Front Buckling Gag with Locking Buckle and our 2" Locking Bondage Collar. Save over $30 when you buy this as a kit.

Fetters Padded Blindfold
Fetters USA

Adjustable elastic strap allows this padded leather blindfold to be pulled snugly around the head.

Fits comfortably
Cuts off all light
Individual eye pads softly press onto the eyes

Fetters Front Buckle Gag with Locking Buckle
Fetters USA

This gag looks terrific, and since the buckle is in the front it is easier to put on and take off, especially when the victim is tied up or bedded down. This is an all-leather gag except for the rubber pecker mouth insert (same as HT45). Padded leather presses against the outside of the mouth for a snug fit. 
Please note, the strap pictured is non-locking though when purchasing this package, your order will be automatically upgraded to the Locking version.

Fetters Locking Bondage Collar
Fetters USA

This is the finest collar we make in leather. It's 2.5 inches wide with a 'double' strap construction and is even lined in a soft garment leather for comfort next to the skin. It also has 4 welded "D" rings attached to all 4 sides and a locking post in back secures the buckle and strap when you want it locked on. it can be used without locking it by just using the 2-inch buckle.

This is a perfect collar for a bondage scene because of the width and the 4 attachment points. Most guys use a chain collar on their boys for everyday wear, this Bondage collar 'could' be used for that but generally would be used in some form of a scene.

Can be used around the neck of a hood that doesn't have its own collar attached. Standard collar size fits from a 15-inch to an 18-inch neck.